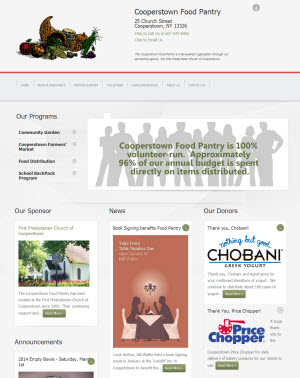 COOPERSTOWN, NY (2/24/14):   Cooperstown Food Pantry rode an early wave of support to victory in the battle for a new website last December, thanks to a contest sponsored by Central New York Mobile Marketing. The Cooperstown Food Pantry is a local non-profit organization sponsored by the First Presbyterian Church of Cooperstown and is operated in its entirety by volunteers.  Each month, the organization provides emergency food assistance to between 600 and 700 people.
Until now, the organization has not had a website.  "The Cooperstown Food Pantry is a much larger organization than many people realize", said Food Pantry Director Audrey Murray. " We are grateful for this opportunity to improve communication with the community who supports us so generously, our volunteers, and those who need assistance."
Susan O'Handley, President of Central New York Mobile Marketing, said she is proud of the work she's done on behalf of the food pantry.  "This organization provides such an important service to so many people," Ms. O'Handley said. "The amount of support they received in the contest is a testament to how valuable the food pantry is."
This is the third year that Ms. O'Handley's company, which designs and builds web sites, manages social media, and runs text message campaigns for businesses, has provided a free website or redesign for an area non-profit. Her previous work was for Susquehanna SPCA and Delware Otsego Audubon Society. This year, she decided to do things a little differently.
"We decided to accept nominations for non-profits and let the public vote," said Ms. O'Handley. "The food pantry fought off a strong surge by Kinney Memorial Library."  As part of the design process, Ms. O'Handley met with Ms. Murray to discuss what features were needed. "It's not just about look, it's also about function," said Ms. O'Handley. "The website makes it easy for clients to find out information about getting help, and makes it easy for people who want to support the organization to learn how to volunteer or donate."
"We are delighted with our beautiful new website," said Ms Murray.  "Everyone who has seen the site so far has been very complimentary".
Cooperstown Food Pantry, established in 1977, is an all-volunteer agency that provides emergency food assistance to residents of the northern portion of Otsego County. It is a member agency of The Regional Food Bank of Northern New York, and Feeding America, the largest hunger relief agency in North America.
Established in 2012, Central NY Mobile Marketing provides website and mobile design and online marketing services for businesses.  Those interested in notifications about future nominees for this program can contact Ms. O'Handley  at Central NY Mobile Marketing.
The new website can be viewed at http://cooperstownfoodpantry.org.  Complete information about services from Central NY Mobile Marketing can be found at http://cnymobilemarketing.com.